Cyber Security at the Edge can be installed using a command line (for new devices without Allxon Agent), or via Allxon Portal (for devices with Allxon Agent).
💡 Note
This security feature supports NVIDIA Jetson devices running on the latest JetPack 4.6 version and onwards only.
---
Linux Command Prompt (New Device without Allxon Agent)
Open a terminal window and enter the following command:
sudo bash -c "$(wget -qO - https://get.allxon.net/linux)"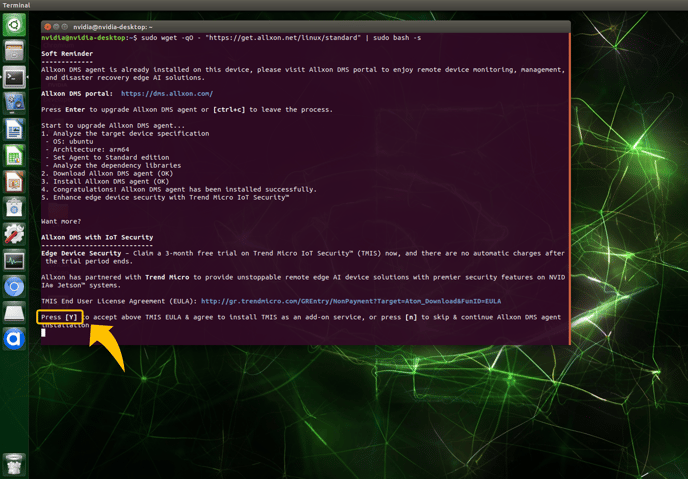 Click on [Y] to accept Trend Micro IoT Security™ (TMIS) as an add-on edge security service, and to agree to the TMIS End User License Agreement (EULA).
💡 Note
New to Allxon?
To install our feature, you will first need to create an Allxon account. Using the same command line, install Allxon Agent onto your edge device and connect it onto Allxon Portal. Click here to get started!
After successful installation, go to the Device Profile Page on Allxon Portal. A new Cyber Security at the Edge feature tab will appear.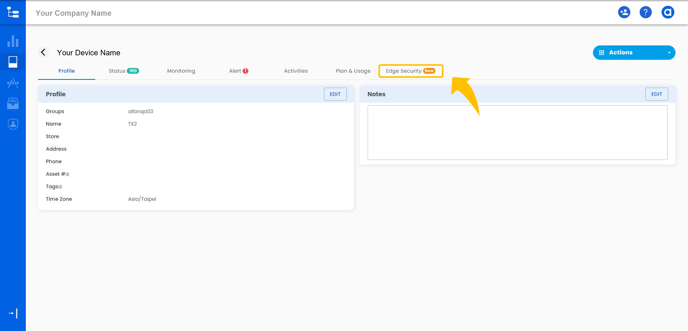 Allxon Portal (Device with Allxon Agent)
Installation Entry Points
There are 4 installation entry points on Allxon Portal for Cyber Security at the Edge:
A button will appear on the top right corner of your portal: ⚡ Protect Devices Now.



An Edge Security Pop-Up Window will appear once on the Devices Page upon sign-in.

Top banner in Devices Page




Cyber Security at the Edge tab on the Device Profile Page


Installation Process
👍 Simply click on one of the above entry points to begin the installation process!
Select which Jetson devices you would like to protect. Tick the box to agree to Trend Micro's Terms of Service, and click Install.



Cyber Security at the Edge installation will instantly begin. Make sure you do not exit the window until installation is complete.



After just a few minutes, Cyber Security at the Edge will successfully install. You may complete the process by clicking Finish.



On the Devices page, you will see the grey hollow badge turn green to indicate that your Jetson device has edge security protection.




Upon successful installation, head over to the

Device Profile Page

to explore the feature.




💡 Note
Click here to learn how to navigate through Cyber Security at the Edge after successful installation, or skim through our FAQ section to learn more about the feature.