Our Cyber Security at the Edge feature protects your devices in collaboration with Trend Micro™
Allxon's Cyber Security at the Edge feature is simple to use and easy to understand. Let us guide you through the details.
Allxon Portal
After signing onto Allxon Portal, enter your Device Profile Page and click on the tab: Edge Security.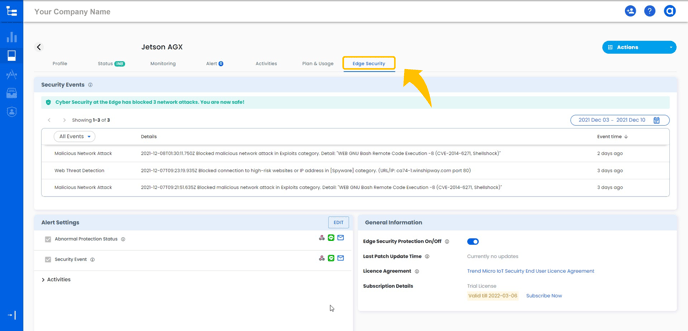 💡 Note
Note: Cyber Security at the Edge can be installed using a command line, or via Allxon Portal. Click here for a step-by-step installation guide.
General Information
Edge Security Protection ON/OFF: toggle the switch to turn on/off Cyber Security at the Edge. "Reconnecting" will appear when the plugIN is offline and will reconnect automatically.
Last Patch Update Time: Trend Micro IoT Security™ (TMIS) Agent will periodically update patches to ensure users are up to date with the latest security databases and prevention technology.
Licence Agreement: Easily access and download the Trend Micro IoT Security™ End User License Agreement (TMIS EULA).
Subscription Details: The following will show according to the feature's subscription details: Trial License (valid for 90 days), Expired (after 90-day trial), Active (for subscribed users), Unknown (an error has occurred, contact Allxon when this status appears).


---
Security Events
Two types of cyber threat activities will show under security events: Malicious Network Attack (TMIS Agent blocks network attacks that exploit vulnerabilities in devices), and Web Threat Detection (Trend Micro Smart Protection Network helps detect and block connections associated with high-risk websites or IP addresses).

---
Alert Settings
Users can set up the alert channels and alert types they would like to receive via email, LINE, or Webhook (for other applications). An Abnormal Protection Status alert will be sent when a problem causes the feature to stop running, or when the Edge Security Protection toggle switch has been turned off. A Security Events alert will be sent out when suspicious activities have been detected or blocked (e.g. Web Threat Detection). Security Event alerts can be "Triggered" and "Acknowledged," but cannot be "Resolved," please see below for details.
Alerts can then be organized into three different states in the Alert Tab: Triggered → Acknowledged → Resolved to help users closely monitor their edge devices.

💡 Note
Take a look at our FAQ section to learn more about Cyber Security at the Edge.