Sign Up
To sign up for an Allxon account, please follow the steps below.
Navigate to Allxon Portal
Type in your "Work Email" and click "Next" to create account


Receive an activation email
You will receive an activation email with Subject: Activate Your Allxon from Allxon (no-reply@allxon.net). Please check your inbox for the activation email and complete the account setup.
💡 Note
Sometimes activation email may be hard to find.
Here is what you can do :
Wait 15 minutes for email delivery.
Check your spam or junk mail folder for an email from no-reply@allxon.net
Add email contact or approved senders list with no-reply@allxon.net
Try signing up again with the same email address. If the account already exists, you'll see an error indicating that there is a duplicate email address.
Click "Forgot Password" on Allxon sign up page and follow the instructions to activate your account.
Activate
You will receive an activation email from Allxon, click the "Activate" button to proceed to the activation process.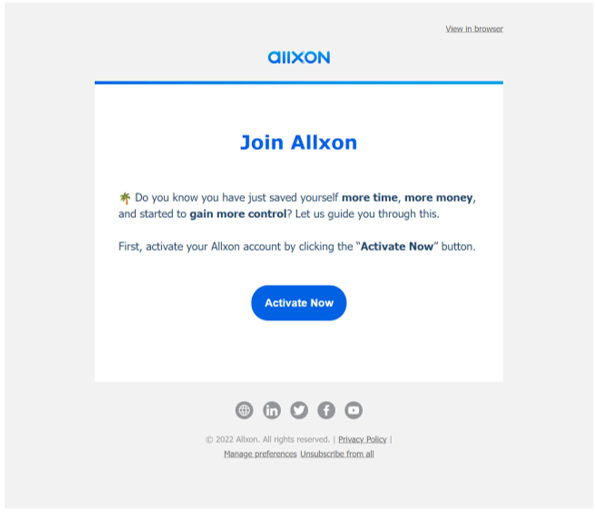 Sign In
Congratulations! You have completed your user account set up. Now you can sign in to Allxon Portal at https://dms.allxon.com/ with your newly created account and password. Time to start your smart operation management journey with us!