About Us
all services ON, all business ON
An open platform for smarter device management with full hardware and software integration
Who We Are
Smart Ecosystem
Bonder

for the AI/IoT Industry
Allxon provides essential remote device management solutions to simplify and optimize edge AI device operations. As an AI/IoT ecosystem bonder of hardware (IHV), software (ISV), and service providers (SI/MSP), Allxon is the spark that ignites fast, seamless connectivity to keep all systems ON.
Our Values
We Aim to
Connect Partners

and to Drive the

AI/IoT Industry Forward
Reliable
We are an industrious team that does not believe in shortcuts. We have become the AI/IoT industry's long-term solution and we take pride in the strong relationships we share with our partners.
Progressive
Passion and innovation is what fuels the fire of Allxon's progressive company culture. We see market pain points as opportunities to help you drive your industry forward.
Collaborative
As the ecosystem bonder of IHV, ISV, and SI/MSP, we value teamwork and communication to ensure we help journey with you to your success.
Authentic
Confidentiality is a top priority at Allxon. We are devoted to enforcing the best security measures to safeguard your business and privacy.
Empathetic
As a customer-focused company, we value our relationship with you and we strive to meet your every need.
Milestone
In the Hands of
A Strong
Innovative Team
With a passionate team that has transformed the company into a top competitive SaaS service provider, we are built upon the accumulated challenges and successes we faced throughout our development stages. At every stage, we sought to leverage our expertise in hardware to provide users with the best software integration and edge AI device RMM services.

Allxon was officially established in 2019 and within a year, we successfully became the first official preferred SaaS partner from Taiwan to join tech giant NVIDIA Jetson's Ecosystem. We continue to strive for simplicity and to innovate edge AI device services and solutions ahead of market trends.
2001-2019
Foundation
Advancement in infrastructure (IaaS) and cloud platform (PaaS)
2019.09
Established
Established Allxon in Taiwan
2020.07
Alliance
Preferred partner of NVIDIA Jetson Ecosystem & partnered with world's no. 1 IPC manufacturing brand
2021.02
Release
Official launch of Allxon Ajax OOB Enabler
2022.07
Release
Official launch of Allxon SaaS-In-Chip and Allxon Bolt OOB Enabler
2023.05
Growth
User-base expansion in more than 60 countries worldwide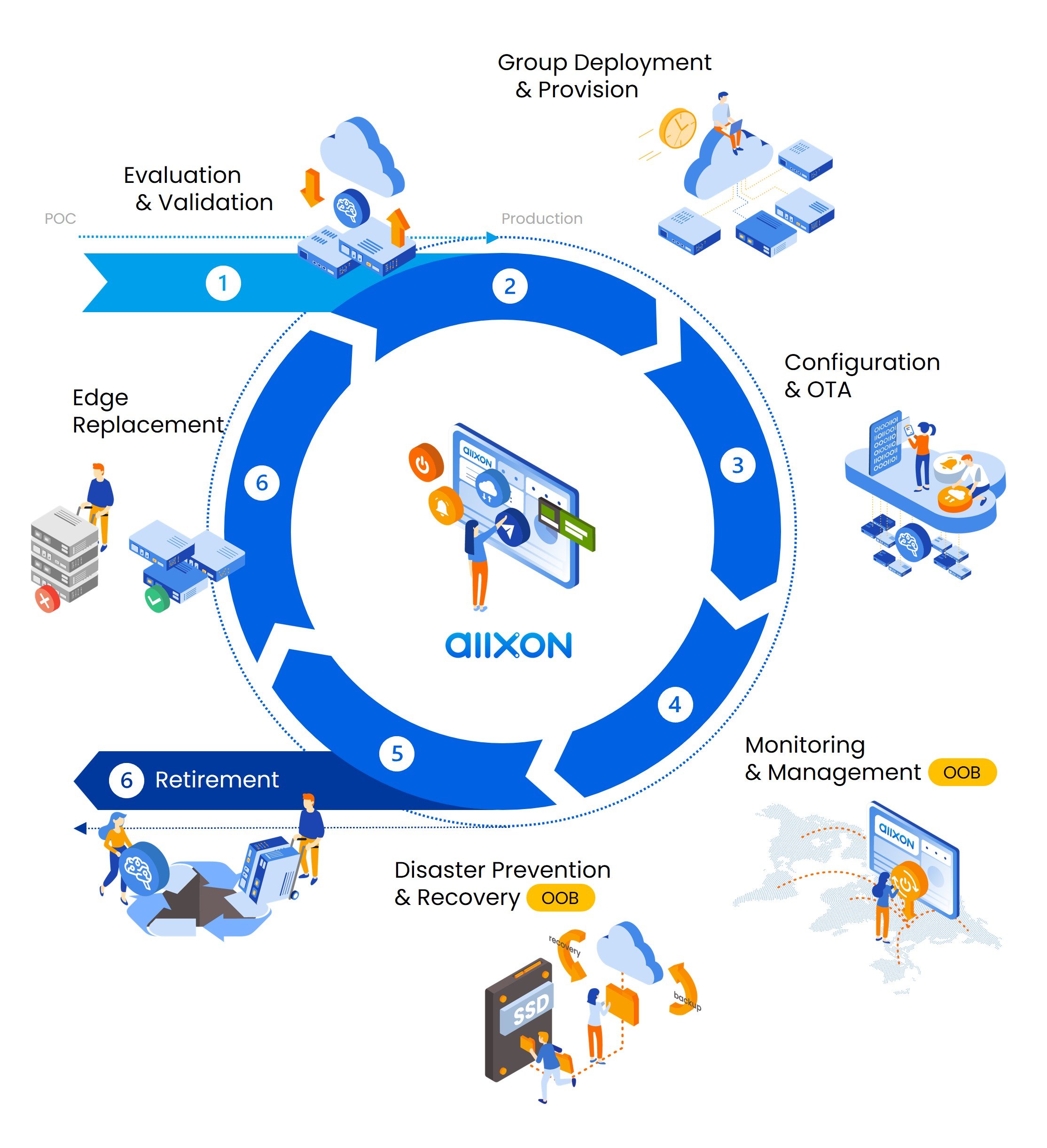 How Allxon Delivers Benefits to You
We Support You
Every Step of the Way
In an industry where existing technical operation issues are fragmented and isolated, we approach AI/IoT as an ecosystem that can be integrated and remotely managed using an easy-to-navigate central cloud portal. By integrating different brands of hardware and software for service providers, we make it possible for businesses to easily gain access to all their scattered devices for essential remote device monitoring and management services.

As a customer-focused company we empower businesses with time-saving and cost-effective management solutions from the very start of an excellent Proof of Concept (PoC) to its production stages, and throughout its project lifecycle. We provide the dependability and support businesses need as they transform and thrive towards their success.