Instruction
Allxon Agent makes pairing In-Band devices and Out-Of-Band Enablers to Allxon Portal quick and easy.
Get Ready for Device Pairing
To add your device
Sign in to Allxon Portal and hover over to the left navigation panel. Click on Devices.
Click on +Add button and have your device pairing code ready.




Enter Device Pairing Code
With your device pairing code at hand, follow the steps below to enter the code on Allxon Portal.
<Environment>
On Allxon Portal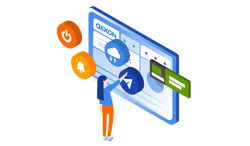 On Allxon Portal, enter the device pairing code obtained in the previous step. (Get Device Pairing Code)


After entering the device pairing code, you should see a "Pairing Completed" message. You can click "v" to redeem exclusive offers with promotion codes, (see Appendix A: Redeem Promotion Code for detail), or click "Done" to finish the pairing process.


Once the pairing process is complete, your edge device will appear on your Device page list with some general information and remote management tools readily available.




To fully experience Allxon with Out-Of-Band disaster recover solutions, head over to Enable Out-Of-Band Control on Device, to learn how to connect an Allxon swiftDR OOB Enabler onto your device.
----------------------------------------------------------------------------
← Previous article Next article →
Get Device Pairing Code Enable Out-Of-Band Control on Device