While there is existing technology out there that makes remote device management simple, service integrators still struggle to find easy-to-integrate hardware that comes with an open, centralized platform for remote management. Most platforms are only good for managing certain hardware features, resulting in the need to unnecessarily re-learn and use multiple device management platforms.

Taking into consideration the popular surge of edge devices being vastly deployed across industries, Allxon's SaaS-In-Chip now makes it possible for service providers to customize their device management portal with features that are built specific to different industry and hardware needs.
How?
The Nuvoton NUC980 Micro Processing Unit (MPU) is the embodiment of our SaaS-In-Chip concept – a turnkey solution. With Allxon's essential remote device management features already built in, the Nuvoton NUC980 MPU also comes with Allxon plugIN, which is a ready-to-use starter kit for developers to build their own Out-Of-Band features onto Allxon Portal for immediate use. The Nuvoton NUC 980 MPU integration is pretty straight forward and intuitive too. Service providers will no longer need multiple platforms to perform different tasks. All they now need is one platform to multitask – over a simple internet connection!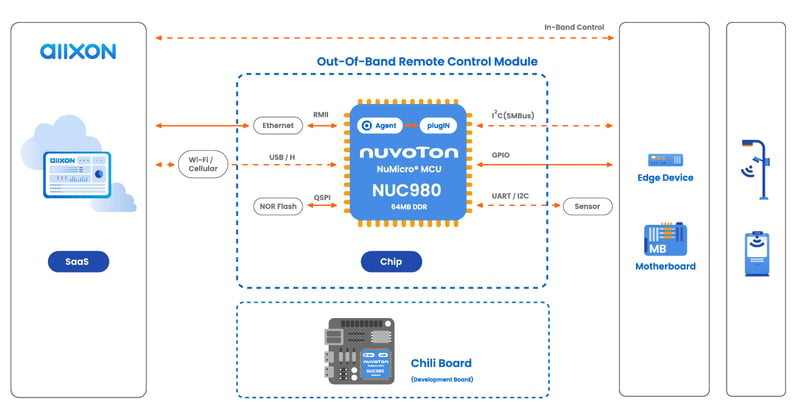 (🔍Click to zoom.)
Our Invitation
With the Nuvoton NUC980 MPU, we anticipate bringing all kinds of hardware features onto Allxon Portal for highly effective and inclusive remote device management.

We want to help service integrators cut out the fuss, the cost, and the time wasted on difficult hardware and software integration so that service providers have all the features, functions, and solutions they need on a single unified portal.

To put it simply, SaaS-In-Chip is "service in chip" to bring unbeatable value to hardware components and unstoppable efficiency to business operations.
All services ON, All business ON
Learn more about Allxon SaaS-In-Chip: https://www.allxon.com/features/oob-technology